Meeting at the Castle: Zeman and surgeon Kubek solve the situation and petition
Senator Vladimir Dryml today with the head of the Czech Medical Chamber Milan Kubka met with President Milos Zeman. The theme of roughly two-hour meeting was the current situation in health care and ways of its solution.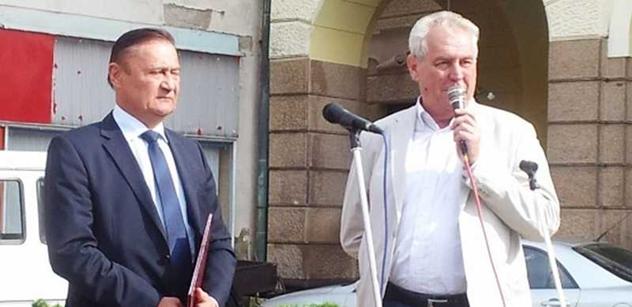 Caption:

Senator Vladimir Dryml and Milos Zeman in contact campaign in region
"We talked about the reasons for the petition, which currently has more than 80,000 signatures, of course, we also discussed the latest developments in health care," said Senator ParlamentnímListům.cz Dryml after returning from the meeting.
The petition of citizens for maintaining a functioning health care, among other things emphasizes that calls for an affordable quality health care that is now threatened by irresponsible actions of the Government and the Ministry of Health.
He signs for several weeks.
But it's certainly not the only activity that is related to health happening.
Recently, also 39 senators across the political spectrum appealed to the Constitutional Court to annul the decree reimbursement that using information developed AČMN Czech Medical Chamber.
"I therefore probably Zeman president convened this meeting and kept his promises made during his inauguration - that will mediate between people. Among other things it was said that it should take place equivalent of a tripartite, which would act to President of the Czech Medical Chamber Milan Kubek, Minister Leoš Heger and possibly others. now will depend on the minister whether accedes to this proposal, "said another Dryml with the fact that he was very impressed with friendliness and konstruktivitou meeting the president.
Old acquaintances unionists: Today still worry. See what comes up
In some cases, closed ambulatory surgery doctors elsewhere on the promotion of protest suggests green ribbon and the opportunity to sign the petition to maintain a good health.Signed here Thursday a day after 12,000 people (total without 28,000 signatures today).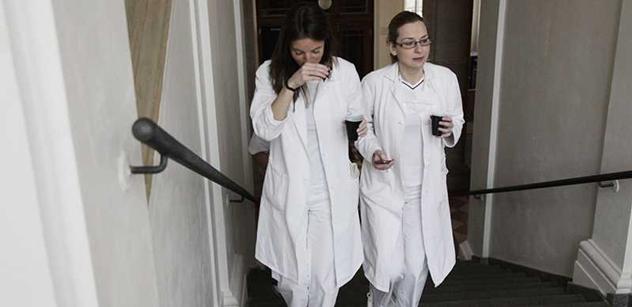 Caption:
Students Medical School
Doctors are not alone decide the extent to which the protest, which was scheduled for several weeks to 1
March, will support.
ParlamentniListy.cz were asking two main faces of medical protests of the past.
Martin Engel and Milos Voleman - these names remain about long engrained in people's memories of 2011, when the Czech Republic seems to hit the biggest mass protests doctors titled: Thank you, we're leaving.
How are they the two doctors now?
Support the protest?
"If you are asking whether I am at work today, I'm not," responded to the question ParlamentníchListů.cz Milos Voleman.
He added that the outpatient clinic at the hospital remains closed on Fridays - and so apparently random visitors difficult to determine whether the reason for the empty office routinely protest or staggered working hours doctor.
I support the protest, even if he went to another day, says Voleman
"If the protest fell on a different day, I left the office closed, I would support him of course," he explained further why Voleman.
He pointed out, however, that he comes into contact mainly with the doctors in the hospital environment, and for those more complex surgeries have closed because they must be able to provide acute care.
Just because a patient coming into hospital outpatient departments usually need.
"I therefore believe that the protest rather apply to physicians who provide outpatient care outside the hospital.
As I know, most of the reasons for the protest action understands, supports, so I believe that it is indeed only by his conscience and the possibility of deciding to what extent their opposition to the development of the Czech health appraisal.
I think many especially welcomed the opportunity to have done thorough medical examination from his colleagues - but with different specializations.
I know about this protest is, "summed up for ParlamentniListy.cz Voleman.
It should be noted that the action really called Den health practitioners - which means that this day will become "patients" they themselves, because it will use to care for their health.
Engel zklátila flu
Martin Engel on Friday 1
March also neordinoval.
"Protest obviously supportive, but I got sick the flu, so it prevents me in that I can now serve as a doctor," said Engel, chief medical departments.
However, he added, because he himself is one of the hospital doctors, realizes that ambulance in hospitals simply conclude, as doctors can do outside is not possible.
Still added that the reasons for the protest by the majority of physicians, with which recently met, support and hears from patients.
"Do you think that the day before the protest or signed more than 12,000 people in this our petition?" Says Engel question.
This is not šprajc, doctors focus on your health and relaxation
Protest doctors should not be perceived as their "šprajc" but as a loud warning that the situation here in this area is already very dangerous.
"We want our colleagues in the hospitals where they agree with management, took the day off and restrict care to see that we need and that it is not without us," he said three weeks before Martin Engel with the fact that doctors you have time to do it yourself for your health.
Rest, or cause to undergo the test.
On the other hand, the association of general practitioners, however, has its members at the time recommended that a joint protest chambers and trade unions did not support the first surgery and
March arrested.
"The words of the Apocalypse of health are false and are just another example of the efforts of trade unionists haunt," said the announcement of the protest also Managing Director of Cabinet Minister John Heger Ruzicka.
Yet medical trade unions, along with other organizations that support them, insist on their own.
The protest, which may spill over into the country?
"Do you think that 1
March is the beginning of something else one day limit does not scare anybody care about, "says Engel. Forthcoming changes are harmful because, according to him, so doctors have to be prepared for the fact that the protest would continue. It referred to the possibility of joint union industrial action autumn Visegrad, where in addition to the Czech Republic, Slovakia, Poland and Hungary.
The most serious situation since 1989
"The situation is the worst since 1989.
Hospitals hundreds of millions of crowns annually lacking and no longer have reserves, "said Engel. Pointed out that the common pressure of trade unions, hospitals and patients in the last year managed to prevent insurance plan to cancel 10,000 hospital beds. Insurers did not want to give any contract hospitals, eventually making them.
Now, according to union vice Milos Voleman Ministry tries again to limit care reimbursement decree.
"Hospitals Although bed remained, but they do not get money, so you will just have to cancel," he explained Voleman.
And as an example of drastic restrictions introduced his hospital at home, where 1
March drop spending on medications and material about ten percent, canceled a third of the beds in internal medicine and surgery, a quarter of beds ARO, half neurology beds and six halls will no longer planned operations.
Director calm Vinohrady hospital, everything is fine, patients, do not worry
However, it has protested Vinohrady hospital director Marek Zeman with the fact that health care in the hospital is and will continue to be ensured.
"Patients do not have to worry.
But only because of the difficult economic situation has been suspended payment of remuneration and relatively less used beds temporarily closed, but it will not jeopardize the care, "said Zeman.
Cause problems, according to the Czech Medical Chamber's funding and union decree chamber for her because even preparing a constitutional complaint.
Category practitioners, however, the payments for primary care agreed, which therefore has no reason to protest against the decree.
And also during the day on Friday shows that this is indeed the case.
Save the health, calls Kubek.
Promises 100,000 signatures
The first March about the Czech Medical Chamber (CLK) industrial action. Doctors and nurses should stay at home and take a vacation, or get yourself to go to his colleagues on the examination. Unions count on strong support from the public as well.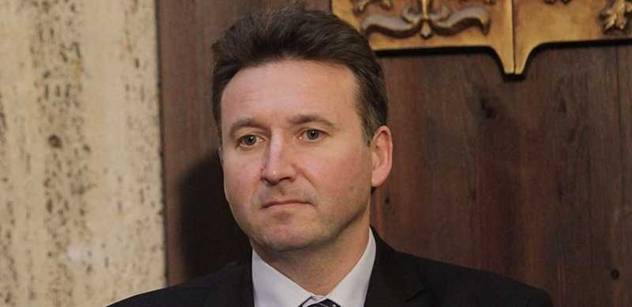 Caption:
The head of the Czech Medical Chamber Milan Kubek
"The industrial action has already started last Friday, began collecting signatures for our petition to Save the Czech health care.
Because the goal of the action is not in any way harm patients.
Instead, we want to maintain the quality Czech Minister of Health and he sent us several times that he is not the Minister for physicians.
And, therefore, if the doctor coughing, so I believe that it will hear the voice of the people, "he explained in pulses CLK president Vaclav Moravec Milan Kubek.
The petition allows for a high number of signatures.
"You cross the number one hundred thousand, and if those hundred thousand will be more, so it will only be better," said Kubek.
"I think it's real plan because health should be a priority for all of us.
Each of us will sooner or later the patient, and to get sick, it will be too late.
It is necessary for the good health to do something now, "he adds.
Denies that there was only action for better doctors.
"We defend the quality of Czech health care.
Count me.
If the hospital will get five percent less than last year, then it means that they can carry five percent fewer operations.
This means patients will wait, "said CMC President.
The treatment will not only decide the doctor. Selects the appropriate medicine and computer
Health insurance companies want to save, so you maybe in one of the next visits to the doctor's office selects a cure, but computer software insurers. You want to co-decide on what is best for the patient. But the system provides a risk because not all drugs can be confused, the software also not working correctly.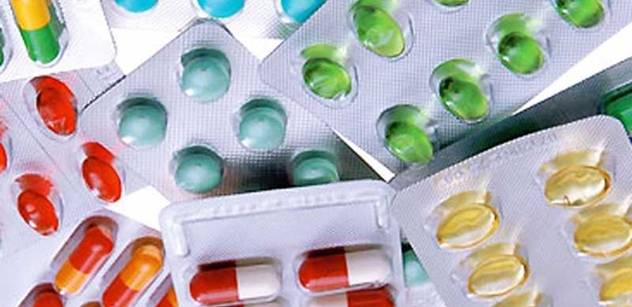 Insurance companies count on the fact that negotiate discounts with drug manufacturers and the doctor gets ban prescribe other medicines in that group.
This can be easily done just by using a computer program to prescribing recipes.
He's since last week doctors notes if they want to prescribe a different medicine than that in the so-positive note Pharmaceutical insurers, inform the server iDnes.cz.
The system has only three kinds of drugs, but insurance companies have a lot of promise.
"This saves up to thirty percent of a given drug. Combined, they are then hundreds of millions of crowns, which can be used to treat patients with other serious diseases," believes Peter Honěk of the General Health Insurance Company (NGA).
Another insurance company, other drug
But will play the role of insurance company with which the patient is registered.
Each of them can have a different discount negotiated with another drug manufacturers.
Even if patients have the same disease, so get a different medication.
"It's not good. Someone who has to decide on the choice of drug, the physician, not the insurance company and its money," he says Zorjana Jojko, head of the Association of outpatient specialists and points out that neither drugs with the same active ingredient are not so easily interchangeable.
With this idea, but also insurance related technical problem.
Not all surgeries are connected to the internet and not all surgeries use the same software.
And even with the right program, it will not go so smoothly.
Software VZP, through which the insurance company wants to put pressure on the doctor, is full of errors.
For example, doctors offer drugs that are not on the market.
In addition, the pressure on doctors what to prescribe, has no support in the law.
This would, however, may soon change.
ODS deputies Boris Stastny and Jiri Skalicky preparing a proposal to the law on advertising, which in iDnes.cz zakonzervovává fact that on medicines for patients in the future will decide just health insurance companies and their economic interests.